Responsibilities & Activities
_____________________________________________________________________________________________________________________

Alpine Recycles. Please help keep recyclables free of contaminants!
Most paper collected for recycling in the U.S. is shipped to China to be made into new paper products. In a recent crackdown in what China is calling "Operation Green Fence", customs officials are rejecting entire shipments of both paper and plastics that contain levels of contamination beyond the allowed 1.5 percent. Contaminants in paper include items such as plastic bags, glass, metal and plastic containers, packing materials, bags of garbage and even diapers. If these items are found in the materials that are baled and shipped to China, they are being returned to the U.S. at shipping fees of $6,000 per container and those costs eventually get passed through to all of us. Residents can help keep their recyclable materials clean by only recycling items that the Recycling Program accepts.

Please keep the following items out of your recycling bins/containers:
Plastic bags, film, bubble wrap, covers for magazines and newspapers, plastic wrap from household goods like paper towels.
Plastic grocery bags - do not use as containers for recyclables -
recycle these back to the grocery store
;
Milk, juice and wax-coated cartons, diapers and pet food bags -
dispose in garbage
;
Paper egg cartons - not accepted as recyclable paper -
dispose in garbage
;
and
Plastic packaging with paper attached, such as Tyvec mailing envelopes - either tear the paper away from the plastic and
recycle only the paper
or
dispose
of all in the garbage.


Recyclables can NOT be picked up if they are in plastic bags.
Separate paper, flatten cardboard and stack neatly and securely.
Place cans, bottles, and plastics (that have been rinsed clean) loosely in containers.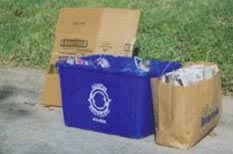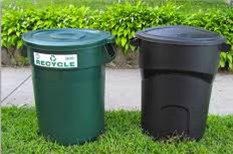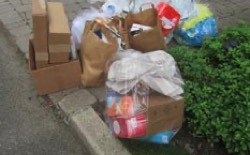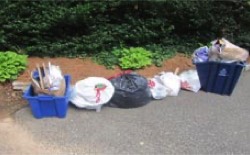 _____________________________________________________________________________________________________________________

America Recycles Day
was first celebrated on November 15, 1997. Today it is a nationally recognized day set aside to promote and encourage recycling in the United States. It is a day to spread the word about the benefits, and the importance, of recycling, and about conserving resources now for future generations. America Recycles Day is just one day, but it inspires us to reuse, reduce, and recycle all year long.

In the past, the EC has distributed reusable bags to residents, and the Alpine school children have created
posters
to promote awareness of the importance of recycling. The EC thanks the Alpine school staff for their support, and participating students for creating their inspirational posters.

At Borough Hall
• Used eyeglass collection box
• Used printer cartridge toner disposal box

At Hilltop Lane
• Used clothing collection containers

At your home
• Collection of fall leaves for composting;
mulch available for residents, call (201) 784-2900 ext 50.
• Chipping of branches brought to the curb (except in leaf season)
• Collection of glass, aluminum, plastic, and paper

Borough Events
• Paper document shredding day • Electronics recycling
Operation Take Back; unwanted/expired medicine disposal
(for schedules, watch for announcements)

County Events
• Household hazardous waste collection
• Computer/Tire recycling and Paper shredding
(click here for schedules)

NJ Dept of Environmental Protection
Recycling Info for Residents
Add'l Info and Helpful Links
All about Source/Waste Reduction
Top 10 Hints for
Remembering your
Reusable Bag:

1. Tie a brown string around your finger.
2. Make the conscious decision to help the environment by using reusable bags.
3. Stow the bags in your car so there're always handy.
4. Keep the bags near the kitchen door so you'll see them on your way to the store.
5. Add "Reusable Bags" to the top of your shopping list as a reminder.
6. Keep your shopping list with the bags so that they will be together when you go shopping.
7. Include your bags with your "leaving the house" list: wallet, cell phone, car keys, reusable bags.
8. Supermarkets in Europe charge 10 eurocents per bag. Think of how much money you save by recycling.
9. Reusable bags make a statement. Show that you care about the environment and about our children's future by using reusable bags whenever your shop.
10. Decide that if you forget your bags that you can't have any dessert!