Responsibilities & Activities
_____________________________________________________________________________________________________________________

Alpine, A Sterling Tree City
-
You have probably driven past our Tree City USA signs on Hillside Avenue and Closter Dock Road, or seen a plaque in Borough Hall, but do you know what it means to Alpine?


Tree City USA
is a program sponsored by the Arbor Day Foundation along with the US Department of Agriculture Forest Service and the National Association of State Foresters. The program supplies direction, assistance, and recognition to its member towns and cities. To qualify as a Tree City USA community, the town must meet 4 standards. It must have 1) a tree board or department, 2) a tree care ordinance, 3) a community forestry program with an annual budget of at least $2 per capita, and 4) an Arbor Day observance and proclamation. Alpine has been a member of Tree City USA since April 2001.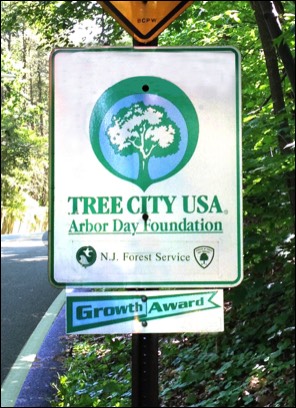 Growth Awards
are awarded by the Arbor Day Foundation to recognize higher levels of tree care by participating Tree City USA communities. Alpine has received Growth Awards every year since 2008. A community that has earned
10 years of Growth Awards
is recognized as a
Sterling Tree City
. Alpine was awarded Sterling Tree City status in 2018 and is among only a few municipalities in the state of New Jersey to earn this distinction and has
continued to earn Growth Awards beyond the initial 10 years
. The award is the culmination of collaborative efforts associated with numerous projects (involving the Environmental Commission, the DPW, borough officials, public school staff, external organizations and contractors, and residents) over a significant period of time. Sterling communities are regarded as leaders in community forestry and are often looked upon as innovators.

Over the years, Alpine received its Growth Awards for a variety of activities in several categories.


Publications
including our
Tree Buffer Guidelines
,
Field Guide & Video
,
Butterfly/Pollinator Guide
,
Deicers
and
Rain Runoff Pollution
flyers. See the Publications Section on our Home Page for the complete list. A
Borough Pathways
map is also available at the Municipal Clerk's office.
Educational
activities including continuing education for
EC
and
DPW
members on environmental issues, as well as efforts by Alpine public school teachers to facilitate artistic expressions by students regarding the significance of
Arbor Day
and other
Environmental Messages
.


News & Information
including topics such as
Invasive Vines
,
Mulching
,
Emerald Ash Borer
, and our
Tree Bill of Rights
. See the News & Information section on our Home Page for the complete list.


Responsibilities & Activities
including
Tree Ordinance
provisions,
Site Visits
and coordination of tree replacement plans with the borough engineer,
Landmark Tree
designations,
Church Street Green
development, web site development, events such as
Recycling Day
and
Arbor Day Seedling Give-Aways and Tree Plantings
, acquisition of public land for Open Space Preservation, and
DPW
activities including tree plantings/replacements in public areas and pickup/recycling of garden debris and holiday trees.