Responsibilities & Activities
_____________________________________________________________________________________________________________________

Arbor Day celebration & seedling distribution -
The first Arbor Day was observed
on April 10, 1874 as a day to plant trees and to celebrate all that trees do for us: prevent soil
erosion, serve as a wind barrier, and provide shelter and shade, to name a few. Today, we celebrate
Arbor Day on the last Friday in April. In keeping with tradition, the Environmental Commission (EC)
delivers seedlings which are distributed to children in the Alpine School. Additionally, the EC
members are on hand to distribute seedlings to Alpine residents at Borough Hall in observance of
Arbor Day.

Join us for our 2019 Arbor Day Celebration

The next distribution date for our seedling give-away to residents is Saturday, April 27th, 2019 from 10am to noon at Borough Hall. Please stop by for your seedling and help to keep Alpine TREED and GREEN. As part of our celebration event, the EC will also plant a seedling in the Church Street Green at the corner of Church Street and Closter Dock Road.

In 2019, Alpine will be designated a "Tree City USA" for the 18th year in a row and will have distributed over 3,600 seedlings, many of which are still thriving in our beautiful natural environment.

Traditionally, our Arbor Day Celebrations feature a display of posters created by the Alpine school children. Our sincere thanks to the Alpine school children and staff for their thoughtful and creative participation in our events over the years.

For more information on Arbor Day, visit the Arbor Day Foundation website at:
arborday.org
Trees in progress . . .

Photo taken 2010;
Seedling planted 2008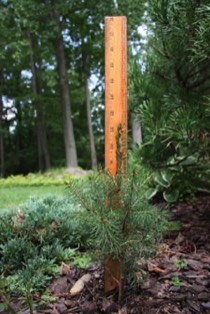 If you have received an Arbor Day seedling from the EC in the past and would like to share its progress, send a photo to
envcomm@alpinenj.org
or bring in a photo on our next distribution day and get an extra seedling for your effort.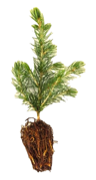 Photo taken 2005;
Seedling planted 1986

"The best time to plant a tree was 20 years ago. The second best time is now"
~Chinese proverb